Do Interventions Work for Breaking Drug Addictions
How Do I Help Someone With an Addiction?
Those who have witnessed a loved one struggle with substance use can agree that addiction is a powerful condition that provokes continuous cycles of confrontation, devastation, and sadness. When you love someone and are forced to watch them struggle with something you can't control, feelings of hopelessness and desperation can set in quickly.
Whether you've circled around your loved one's addiction for weeks, months or years, a well-prepared and loving yet unyielding intervention can benefit your loved one even if they refuse help. When carried out properly, the intervention process facilitates a respectful confrontation of your loved one and their addiction to 1) halt the progression of their maladaptive behaviors and 2) impress upon them the need for and benefits of treatment.
What Is an Intervention?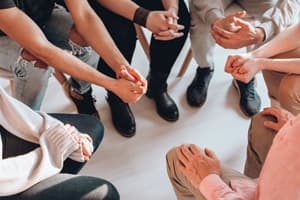 An intervention is a well-organized process designed to break through an addicted person's denial so that they can recognize and change their self-destructive behaviors. Unlike the hostile or haphazard interventions sometimes depicted in movies and television shows, interventions should be well-planned to ensure the environment is calm and controlled.
The intervention process hinges on preparation amongst all participants to create a unified front. Each person involved in the intervention should be prepared to speak clearly and respectfully to ensure the atmosphere is non-judgmental and that the addicted person does not feel threatened or attacked.
In a typical intervention, the following actions transpire:1
Each person provides specific instances of how their loved one's addiction behaviors impacted family and friends.
The leader of the intervention delivers a plan of action for the addicted person to enter a specific rehab program or next steps for a treatment evaluation.
The addicted person is encouraged to accept professional help, and each person describes how they will respond if the person refuses.
The ultimate goal of an intervention is for the addicted person to listen to the concerns of their loved ones and accept help.
How Effective Are Interventions?
It's widely affirmed by the medical community and the addiction treatment industry that interventions are an impactful and useful strategy for encouraging someone to seek help. The National Council on Alcoholism and Drug Dependence cites intervention success rates, as measured by a commitment to seek treatment, at above 90% when performed appropriately.2
Another study published in the American Journal of Drug and Alcohol Abuse found that people who were confronted about their alcohol use were significantly more likely to enter detox or rehab and remain abstinent than those who were not confronted.3 
The success of an intervention relies on consideration of your loved one's individual circumstances; however, a few conditions are universal to success:2,4
Careful planning. An intervention takes coordination and may take a few weeks to plan. You'll need to:

Invite the appropriate intervention participants.
Select a date and time to hold the intervention.
Research addiction, its causes, and how it affects the brain, and share information with each intervention team member to ensure you're all operating from the same understanding.
Line up a viable rehab center or make arrangements for your loved one to undergo an evaluation so an appropriate treatment plan can be developed.

Rehearsed communication and anticipation of objections. All intervention participants should meet before the scheduled intervention to rehearse and agree upon talking points. This will help ensure the intervention proceeds calmly and respectfully. You'll also want to consider how your loved one may respond to the intervention and have planned solutions for any objections. For example, if you believe your loved one will object to treatment due to parenting obligations, you should have a reasonable childcare solution on hand.
Staying on track during the intervention. Your loved one may be defensive and react with hostility to the intervention. It's important to remain composed and stick to your intervention strategy and talking points. Deviating from your plan can quickly derail the intervention and lead to defensive and unproductive back-and-forth exchanges. 
Confronting a Loved One in Real Life
An intervention can be overwhelming for the person on the receiving end. The event is unexpected and forces an individual to come face-to-face with the reality of their addiction and its impact on their family and friends. Proper communication is key for ensuring your loved one feels supported rather than condemned.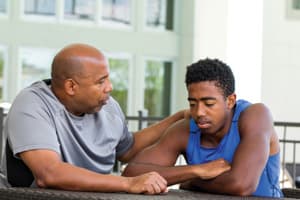 Make sure each intervention participant prepares clear, straightforward talking points. During the intervention, be sure to keep your message on-point and free of rambling. Ideally, your individual speech should be condensed to 5 minutes or less to avoid overwhelming your loved one. Many people find that writing a letter and reading it aloud during the intervention is a helpful strategy for ensuring that nervousness or strong emotions don't derail their prepared statement.
Overall, the tone of the intervention should be supportive and free from blame or judgment.4 A helpful rule of thumb is to avoid overly emotional descriptions of your concerns—stick to objective facts and examples that underscore the significance of your loved one's addiction and its impact. For example, you may recount a specific time when your loved one made a destructive decision while using drugs or alcohol, and how that particular behavior or decision affected you.
Your communication should guide your loved one to a single conclusion: that it's time to seek help. Your message should be unwavering, and you should spell out what you will do if your loved one refuses to seek treatment. Explain how their continued behavior will affect your relationship, and set healthy boundaries that clearly articulate why your relationship or level of support will need to be adjusted if your loved one doesn't take action and real steps toward recovery. For example, if you are a partner of an addicted person and you have children together, you may express something along the lines of: "If you do not seek professional help, I cannot allow you to live in our home. I am making the decision to protect our children over your drug use." 
If you're searching for effective communication models to utilize outside of a direct intervention, you may consider CRAFT (Community Reinforcement Approach and Family Training). This model teaches family members and friends motivational strategies that can help prompt an addicted person to reduce their substance use and/or eventually seek treatment on their own.5 CRAFT teaches several skills including:
How to pinpoint triggers.
Positive communication.
Reinforcement strategies.
Self-care.
Practical Tips for Success
As previously mentioned, careful planning and rehearsal are paramount to the success of your intervention. Below are a few specific tips to consider when crafting your intervention strategy.
Select a solid intervention team. Make sure participants are narrowed to only those who your loved one respects or depends on, and do not invite anyone who may jeopardize the success of the intervention due to:2

Their own mental health or substance use issues.
Their inability to self-restrict commentary and stick to agreed-upon talking points.
Their negative or volatile relationship with the addicted person.
Carefully select a date and time for the intervention. It's important that the intervention is unexpected so that your loved one cannot plan excuses or avoid the intervention altogether. In addition, you should ensure that the intervention is well-timed to:

Avoid any scheduled obligations your loved one has committed to.
Reduce the chances that your loved one is under the influence of drugs or alcohol during the intervention.
Ensure an appropriate amount of time for everyone to speak and for your loved one to make a decision.
Choose a private, neutral environment. Holding the intervention in your loved one's home may not be the best option due to the familiarity of the environment. Familiar spaces invite old patterns of behavior and possibly memories of angry confrontations. Try to find a more neutral environment such as:

A conference room or office space.
An open room at your place of worship.
A space at your local community center.
A therapist's office.
These formal and private spaces help set the tone for a more respectful, helpful dialogue. Additionally, your loved one will not have ready opportunities to escape to familiar hideouts.
Develop a concrete plan for immediately after the intervention. The ultimate goal of your intervention is for your loved one to accept help. Most interventionists recommend that you ask your loved one for an immediate decision and avoid allowing them to mull it over or sleep on it. It's best to have a rehab program or treatment evaluation arranged for them so the next steps can be swift and any hesitation is eliminated.4
Think through what you will do if the addicted person says no. There's a possibility your loved one may refuse help. If this is the case, be prepared to follow through with the consequences you outlined during the intervention. By following through with boundary-setting measures, you avoid enabling behavior, which can improve your loved one's chances for positive change.
Consider how you will take care of yourself. Regardless of whether or not your loved one accepts help, you should also think through how you will take care of yourself. You may consider:

Joining a support group for families and friends dealing with addiction.
Finding a therapist to discuss coping strategies and any personal issues you're facing.
Turning to a higher power to find peace or understanding.
Remember that your own well-being is an important component of your loved one's recovery. If you're unhealthy, you'll be unable to offer true support and encouragement.
Think about hiring an interventionist. Professional interventionists can help you organize the intervention, and they can also be present during the event to guide the discussion and keep everyone on track. An interventionist is not mandatory for a successful intervention; however, you may want to seriously consider hiring a professional if your addicted loved one:

Possesses a history of severe mental illness.
Can become violent or hostile.
Has acted with self-destruction in the past or has expressed suicidal thoughts.
Interventions can work when carefully designed and conducted properly. If you're looking for help to arrange care for your loved one, reach out today to learn about your options for finding treatment.
---
References:
Center for Substance Abuse Treatment. Brief Interventions and Brief Therapies for Substance Abuse. Rockville (MD): Substance Abuse and Mental Health Services Administration (US); 1999. (Treatment Improvement Protocol (TIP) Series, No. 34.) Chapter 1—Introduction to Brief Interventions and Therapies.
National Council on Alcoholism and Drug Dependence. (2015). Intervention—Tips and Guidelines. 
Liepman, M., Nirenberg, T., & Begin, A. (1989). Evaluation of a Program Designed to Help Family and Significant Others to Motivate Resistant Alcoholics into Recovery. The American Journal of Drug and Alcohol Abuse, 15(2), 209-22.
The Partnership for a Drug-Free America. (n.d.). Intervention Quick Guide.
South Central (Rural) MIRECC Clinical Education Project. (n.d.). Community Reinforcement and Family Training – Support and Prevention (CRAFT-SP).
More resources about
Do Interventions Work for Breaking Drug Addictions

: