Withdrawal: It's Our Biggest Fear
I'll never forget the night I was sentenced. I was placed in a holding cell in the county jail with 12 other women. And with only four beds in that room, the rest of us had to sleep on the floor atop the paper-thin mattresses we were issued.
One of the beds was occupied by a woman coming off heroin. She was crying in pain and vomiting in a bucket every few minutes. Each time a guard would pass our cell, she would plead with them for help – but they simply walked away and let her lay in her own diarrhea. I'd never seen anything like it before. "This is why so many people stayed hooked on drugs", I remember thinking. Because who would want to go through that? Her withdrawal symptoms were so severe, I was scared she wasn't going to make it through the night.
Perpetuating the Cycle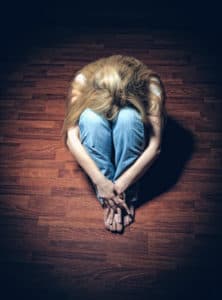 The symptoms of drug withdrawal are perhaps the worst part of the whole vicious cycle. They keep you trapped in chemical dependency, seemingly ensuring that you'll never stop taking your drug of choice.
Drugs and alcohol change how the brain processes emotions and regulates mood, especially when they're continuously consumed. Eventually the brain becomes dependent on these substances, so when they're suddenly removed, a sort-of rebound effect occurs. The brain then scrambles to regain its state of balance and return to its normal way of functioning, which is a very uncomfortable process. As such, it produces "withdrawal" symptoms, which can take the form of migraines, aching, sweating, vomiting, diarrhea, anxiety, and even seizures.
Physical and Emotional Consequences
Different drugs have different withdrawal timelines and symptoms. While some can produce visible physical withdrawal symptoms (such as alcohol), others can produce more of an emotional effect (such as cocaine or marijuana). And it's important to point out that just because you don't experience intense physical or emotional symptoms, it doesn't mean you're not addicted. After all, each drug carries its own unique set of challenges, withdrawal-wise.
But the great thing is, you don't have to jump off cold-turkey – like the girl I bunked with in the county jail. There are ways a person can be weaned off more comfortably, either through supervised medical detox or with the aid of certain medications. And when you finally experience the relief of being on the other side of withdrawal symptoms, you can truly embark on the journey to healing and the recovery process.
Don't let the fear of withdrawal keep you stuck in the cycle of addiction.
Additional Reading:   Just the Facts – Psychological vs Physical Addiction
Image Source: iStock