What Can I Expect at an Al-Anon Meeting?
Holly's husband has been drinking heavily for six years. She realized a long time ago that he's an alcoholic, but he has yet to admit it or seek help. She doesn't know how to cope with what she's going through.
She's heard of Al-Anon, but isn't sure about attending a meeting. What will they expect her to do? To say? Will she be welcomed there? Will it be helpful?
Holly isn't alone in her questioning and she's definitely not alone in her situation. Millions of family members are affected everyday by a loved one's alcoholism. That's why Al-Anon exists.
An Introduction to Al-Anon
While AA provides support for those struggling with alcoholism, Al-Anon offers support for their loved ones.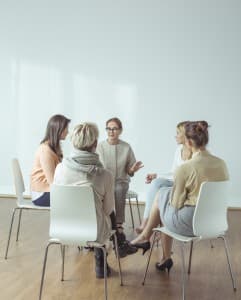 Founded in 1951, the program is designed to help people recover from the effects of someone else's drinking.
The Al-Anon mission is: Strength and hope for friends and families of problem drinkers.
It can be intimidating – or even scary – to try something new, especially when you don't know what to expect.
Here's a quick overview to help calm any anxieties about attending a meeting for the first time.
What Al-Anon IS
Al-Anon is a mutual support group. Meeting attendees are welcome to share what they are going through and ask questions.
Participation is voluntary. If you attend, you can talk about your experiences or just listen to others. If you aren't comfortable sharing, simply tell the group you'd like to pass or that you'd rather just listen.
Meetings are anonymous. Al-Anon attendees and group leaders must maintain confidentiality with all information shared – that includes your identity.
Al-Anon is a safe place where you can learn to trust, share your problems and receive support from others in similar circumstances.
What Al-Anon IS NOT
Al-Anon isn't a brainstorming session; group members don't get together and plot out how they can lead loved ones to the promised land of sobriety. It's for you, not them.
The group leaders or counselors don't spend time barking orders or demanding everyone in attendance follow their directions. Everyone is equal in this mutual-support setting.
All meetings aren't the same. General guidelines are provided by Al-Anon, but each meeting is run as its members choose. Most groups do, however, begin with a reading of the Twelve Steps of Al-Anon. It can be helpful to attend several different meetings to find the one where you're most comfortable…don't give up if you don't like the first one.
Al-Anon isn't a religious program. Despite popular misconception, it's not affiliated with any religious group, nor are its members required to be of a practicing faith.
Where to Find a Meeting
Al-Anon meetings occur across the nation. To find one in your area, check local listings, search the Al-Anon website or call 1-888-4AL-ANON.
Additional Reading:   So You Married an Addict: Is it Time for a Divorce?
Image Source: XXXX