The Walk of Shame: Alcohol, Sex, and Lots of Regret
During the summer before my third year of law school, something happened that I'll never forget. I went to a friend's birthday party and met one of her friends – a guy who was also in our law school class.
We'd never spoken before, but instantly hit it off, spending the next few hours talking and drinking without a care in the world. The last thing I remember was taking a few shots with him, then…darkness.
Please Let Me Be Dreaming
I woke up from that blackout, laying flat on my back with my clothes scattered all over the floor. The guy I'd met earlier was on top of me. The lights were off and we were in a bedroom that I didn't remember entering.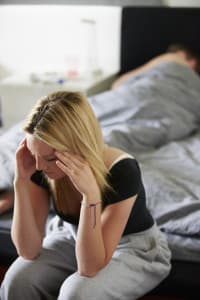 Had I told him that I wanted to do this? I don't know – and I never will. It's a missing link in my memory that's haunted me ever since.
Alcohol played a huge part in my sexual development. As a teen and young adult, the thought of having sex was flat-out scary; no way in hell was I about to do "the deed" without some liquid courage under my belt.
Booze gave me confidence in my body, lowered my inhibitions and melted all my insecurities away. I thought alcohol allowed me to be who I wanted to be – or at least someone who I thought a guy would want to be with. With alcohol, I was no longer the shy, inexperienced girl in the corner, but the confident, self-assured, cool chick who was ready to take charge in the bedroom. Of course, that was only a facade – I didn't realize how little control I actually had.
Face the Facts
My experience that night affects me to this day and, according to a new book, I'm not alone. Sarah Hepola, author of Blackout: Remembering the Things I Drank to Forget, writes,"many of us arrive into adulthood finding sex and heavy alcohol use to be hopelessly linked."
She explains how many young women engage in alcohol-fueled hookups and use booze as a shield. And yet, many end up feeling taken advantage of or, like me, wondering if consent was ever given in the first place.
Hepola ends on an upbeat note, however, urging that sex is possible without alcohol. She writes, "It is thrilling, and terrifying, and real as fuck, the way I somehow suspected sex was meant to be." It's all about finding that strength and security in yourself, which ultimately comes from within, not a bottle of wine.
Additional Reading:   Young Women: 5 Dangers of Mixing Sex and Alcohol
Image Source: iStock