The Catalyst for Binge Drinking Might Be in the Glass
From the barrage of TV commercials to company happy hours, alcohol is ingrained into the American consciousness.
Unfortunately, binge drinking has become a large part of that consciousness.
Drinking on the Rise
According to data, from the Institute for Health Metrics and Evaluation, heavy drinking increased by 17.2 percent from 2005 to 2012, an upward trend that continues today.
As health officials brainstorm solutions to combat the drinking problem, researchers in the U.K. recently uncovered some mind-blowing findings related to binge drinking – findings that have been sitting under our proverbial noses this whole time.
What's this amazing breakthrough, you ask? Simply put; the look and feel of pint glasses may affect how much someone drinks.
David Troy, PhD student and University of Bristol researcher, wrote, "Excessive alcohol use is a major public health concern, and there is a lot of interest in alcohol control strategies. It is important to determine what environmental factors are contributing to excessive use and how they can be altered to nudge drinkers towards more responsible consumption."
The Science Behind the Glass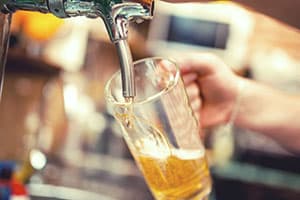 University researchers conducted two studies, the first of which evaluated 160 casual drinkers split into two groups. Half drank alcohol from curved pint glasses with volume measurements, indicating a quarter, a half and three-fourths of a pint. The other half drank from the same curved glasses without volume markings.
After a set period of time, an analysis of each group's drinking behavior showed that the group with marked pint glasses drank slower (10.3 minutes) than the group with no markings (9.1 minutes). The study suggests that acknowledging alcohol amounts may help to slow down drinking.
In the second study, with the cooperation of three local pubs, researchers then tested the differences in drinking behavior among bar patrons who drank out of curved pint glasses verses straight-sided pint glasses.
Much like the measured glasses, the research showed that individuals who drank out of straight-sided pint glasses tended to drink less.
What Does the Data Mean?
"Our research suggests that small changes such as glass shape and volume markings can help individuals make more accurate judgments of the volume they are drinking, and hopefully drinkers will use this information to drink at a slower pace," wrote senior project leader Dr. Angela Attwood.
In the end, both studies point toward one very simple conclusion: conscientious drinking promotes more responsible drinking.
Learn more about the treatment for alcoholism.
Image Source: pixabay.com