Breaking Down Drug & Alcohol Mentions in TV Shows
It's no secret that drug and alcohol-related content is some of the most engaging out there. People can't get enough of content like AMC's Breaking Bad, Showtime's Weeds, and USA's Queen of the South; so much so that they consistently tune in to their favorites, even if the underlying message is questionable. That's why it's no surprise that drugs and alcohol have made their way into – and even become central themes – of some of the most popular shows of all time. It's as simple as this: supply and demand. 
Honestly, we get it. Drug and alcohol-related tv shows are interesting and engaging if not always entirely accurate. But when our favorite shows fail to highlight the realistic repercussions of drug and alcohol use, that's when they fall into dangerous territory. 
While we all know that drug and alcohol-related terms regularly find their way into TV shows on the most popular television networks, there's less conversation surrounding the prevalence of drug and alcohol references in the original shows put out by some of the world's top streaming services, like Netflix, Hulu, and Amazon Prime. And this sparked our curiosity. 
How frequently do these terms really occur in the shows released by our beloved streaming services? And are some streaming outlets more drug-friendly than others?
With these questions in mind, we analyzed the total number of drug and alcohol mentions per season on each major platform's original shows. We then ranked the shows and platforms accordingly. And we must say, our findings might surprise you!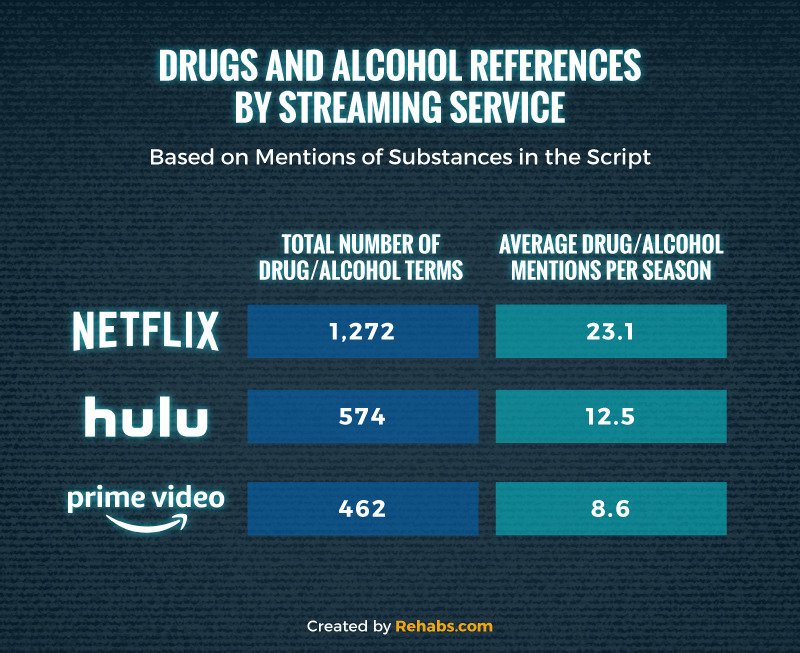 When it comes to the shows with the most drug and alcohol mentions, we found that the margin of difference between the top shows in each network and the runner-up isn't that significant. On Hulu, for example, The Mindy Project had nearly thirty-one drug and alcohol mentions per season – only about three more mentions than Deadbeat. Similarly, with Amazon Prime, there's only a margin of three mentions that separates the top two shows: The Marvelous Mrs. Maisel and The Patriot. The exception to this trend is Netflix, where we found a 26 point gap between Trailer Park Boys: The Animated Series and Murder Mountain. 
We also found it somewhat surprising that seemingly lighthearted shows like The Mindy Project and The Marvelous Mrs. Maisel had among the highest number drug and alcohol mentions on their respective streaming services. This goes to show how commonplace substance use is. The "light" tv shows still talk about drugs and alcohol because it's relevant to a general audience.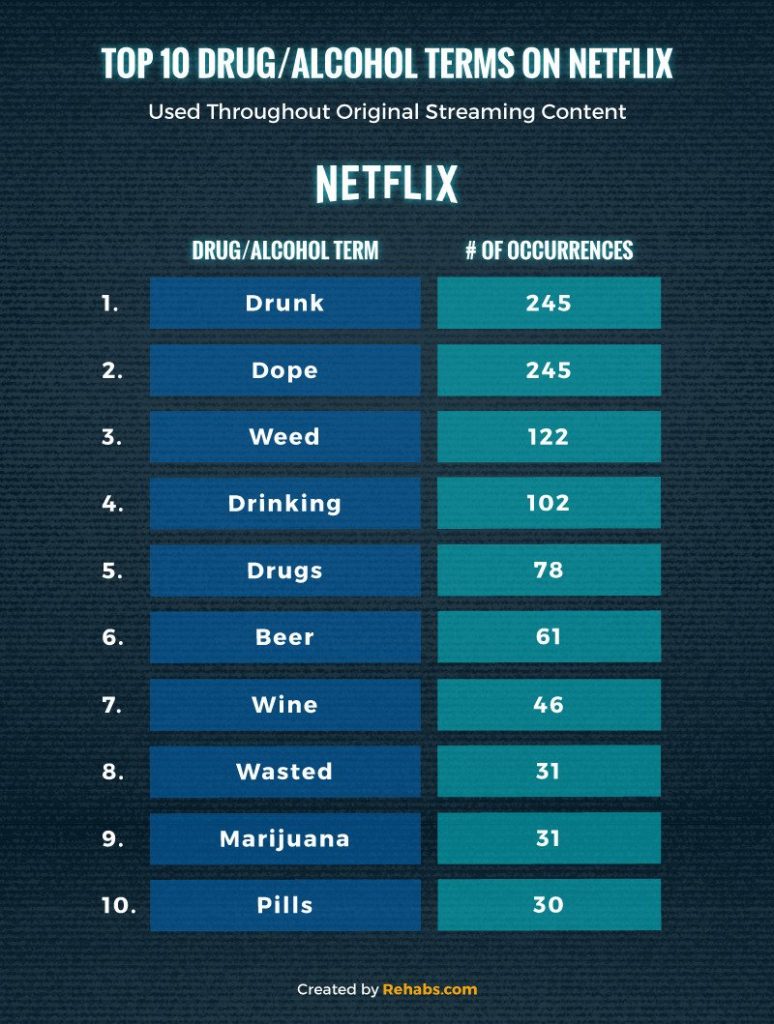 Aside from the sheer numbers of drug and alcohol mentions, we were also curious about the differences in drug and alcohol-related terms by platform. And as it turns out, there are several differences worth noting. 
First, the term 'dope,' must be a Netflix thing, as it tied for the most-used drug or alcohol-related term on Netflix originals, but didn't make the top ten on either of the other streaming services. Drunk, weed, drinking, drugs, and beer were among the other most frequently used terms in Netflix originals.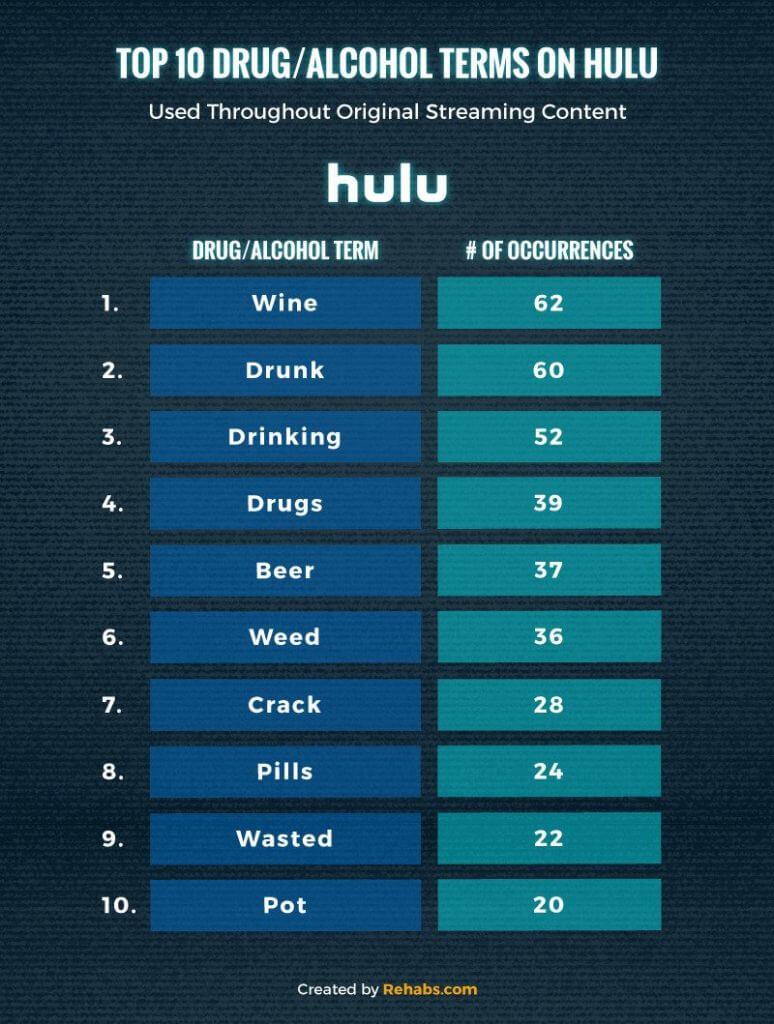 With sixty-two occurrences, Hulu original writers must have wine on their minds. Though "beer" ,also made the cut, it ranked much higher on Netflix. Following wine, drunk, and drinking are the second and third-most frequent terms used on Hulu, occurring sixty and fifty-two times, respectively.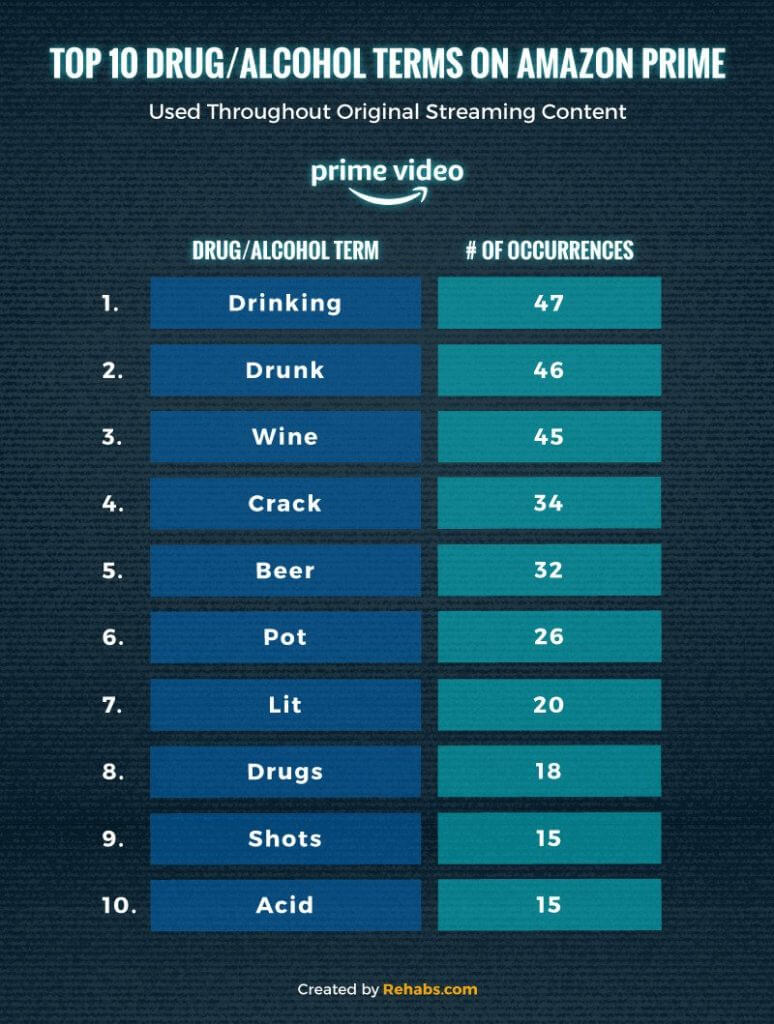 As for Amazon Prime, "drinking" and "drunk" occurred most often – forty-seven and forty-six times, to be exact. 
It's also worth pointing out that Amazon also uses a few less-common drug-related terms,  like 'lit' and 'acid,' that weren't among those on its competitors' shortlists.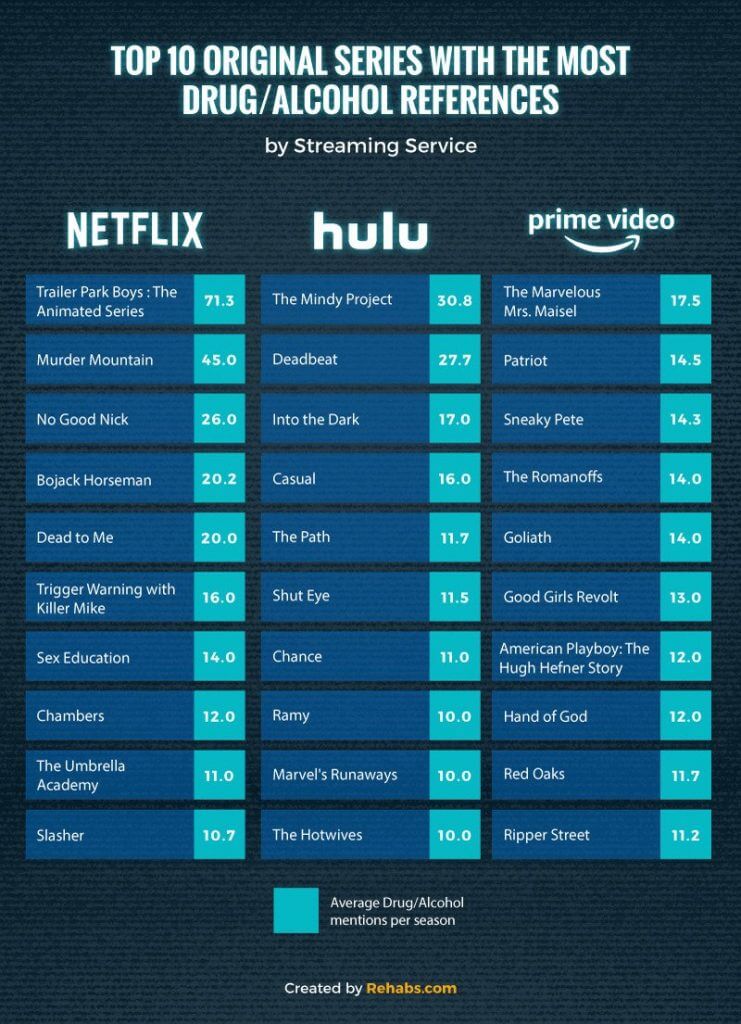 While Hulu and Amazon Prime certainly don't shy away from drug and alcohol references, neither outlet comes close to the frequency with which Netflix mentions these topics. In fact, Netflix originals include over twice as many drug and alcohol-related terms as Hulu and Amazon Prime do. 
For better or for worse, it's safe to say that drug and alcohol references are, and will likely continue to be, a prevalent subject, infiltrating most of the media we consume in one way or another. And clearly, Netflix, Hulu, and Amazon Prime originals are not immune to this trend. So, the next time you open your favorite streaming service, remember to stop and ask yourself: 
What message is this show sending about drug and alcohol use?

Is that message true? 
Can I use this information?
The information and graphics in this blog post can be used and displayed by all commercial and non-commercial websites without charge. However, use is only permitted with proper attribution to rehabs.com When using this information or any of these graphics, please include a backlink to this page.