Study: Are You One of these Four Drunk Types?
We often joke how some people become "completely different" when they're drinking. Some become the stereotypical over-affectionate, friendly type of drunk, while others who are normally reserved suddenly become aggressive and belligerent after a few too many drinks. Then there are those who remain the same no matter how drunk they get.
Funny how alcohol can completely alter – or not – personalities, huh?
Identifying a Drunk Type
A new study from the University of Missouri-Columbia and published in the Addiction Research and Theory journal took this long-held belief to a whole new level by analyzing 374 individuals before and after they were intoxicated. Each participant completed a 50-item personality test twice – once while they were sober and again once they were intoxicated.
The researchers took this data and concluded that there are four different types of drunks:
Hemingway: 42 percent of the participants landed in the Hemingway category
Mary Poppins: 15 percent fell to the Mary Poppins category
Mr. Hyde: 23 percent were labeled as Mr. Hyde
The Nutty Professor: 20 percent of the participants fell in the Nutty Professor group
A Look at the Types
Here's a look at all four intoxicated personality types and the characteristics associated with them:
These types of drunks don't experience many personality changes or reductions in consciousness and intellect, even after consuming large amounts of alcohol. This falls in line with Hemingway's infamous quote that he could "drink hells any amount of whiskey without getting drunk." These drinkers are also more reliable and organized in general, in addition to having a better understanding of abstract ideas.
This group of drinkers becomes more disagreeable and argumentative with each passing drink. They also reported "a tendency of being particularly less responsible, less intellectual, and more hostile when under the influence of alcohol than they are when they are sober". Ironically, two-thirds of those who fell into the Mr. Hyde group are women. Keeping in line with this finding, the Hyde's are the most likely group to blackout or be arrested due to their behavior while drunk.
This predominately male group consists of normally reserved people who suddenly become more outgoing after a few glasses of "liquid courage." The Nutty Professor group also reported a significant drop in consciousness when they were drinking.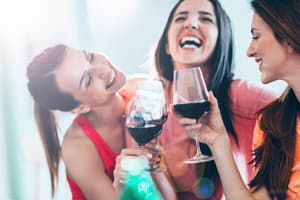 Much like the beloved nanny, drinkers in this mostly female group possessed a kind and gentle disposition while drinking. Even as their alcohol consumption increased, they remained friendly and cooperative. Researchers noted that these drinkers "decrease less than average in conscientiousness, intellect and agreeableness when intoxicated…[they] essentially capture the sweet, responsible drinkers who experience fewer alcohol-related problems."
Additional Reading: Take This Alcohol Assessment Quiz
Image Source: iStock