Starting a Benzo Taper: 7 Things to Keep in Mind
My sister suffers from extreme anxiety and has been on high-dose benzos for years. However, she's the kind of person that hates feeling like she's dependent on anything, so one day – out of the blue – she decided to simply cut the Valium out of her life.
The first day she hardly experienced any withdrawal symptoms, but by the second, she felt like she was having a full-on anxiety attack – crying hysterically in the corner of her room for hours. Needless to say, she went back to her regular dosage immediately, feeling discouraged and foolish.
Quitting benzos cold turkey like my sister did is not a recommended plan of action for anyone. Instead, be patient and more thoughtful with your taper – it'll not only eliminate unnecessary agony, but it will also make the process much more manageable.
Knowledge is Power
The more you know about the process of tapering off benzos, the more confident you'll feel going into the process. With that in mind, here are 7 tips to help make your benzodiazepine taper a success:
Do Your Research: Gather all the information about the tapering process that you can handle. Understanding what is happening to you during this period will not only give you reassurance, but peace of mind, as well.
Find a Support System: Going through tough times alone makes any obstacle seem insurmountable, so make sure you've got someone by your side who understands what you're going through. Whether it be a spouse, a therapist, or a friend from a support group, make sure you have someone there to step up to the plate when you need a helping hand.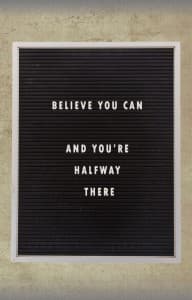 Go at Your Own Pace: Everyone is different, so it's up to you to determine the right tapering pace for your body. Keep a diary and record your progress, feelings and hindrances each day. By having it all in writing, it will be easier to map out a schedule and determine your dosage reductions.
Turn to Longer-Acting Medications: Short-acting benzodiazepines, like Xanax, result in more frequent fluctuating quantities of the medication in the bloodstream, which can lead to more severe feelings of withdrawal. Longer-lasting benzodiazepines, on the other hand (like Valium), result in more stable blood concentrations, and therefore, are easier to wean yourself off of.
Refrain from Drugs and Alcohol: This should go without saying, but it defeats the purpose of a benzo taper if you're just going to double up on other mind-altering substances.
Time for some R&R: Your body is working hard to flush the drug out of your system, so be sure to eat healthy foods, stay hydrated, exercise (in moderation) and get plenty of rest.
Don't Lose Hope: Weaning yourself off benzos isn't an event; it's a process. In fact, it can take up to 18 months for some people from start to finish. So remember to stay positive – this can do wonders when dealing with discouraging people or situations.
Take Our "Am I a Drug Addict?" Self-Assessment
Take our free, 5-minute "Am I A Drug Addict?" self-assessment below if you think you or someone you love might be struggling and need benzodiazepine abuse treatment. The evaluation consists of 11 yes or no questions that are intended to be used as an informational tool to assess the severity and probability of a substance use disorder. The test is free, confidential, and no personal information is needed to receive the result.
Additional Reading: Warning: We Can't Afford to Ignore Benzo Abuse
Image Source: iStock