Know Before You Go: 4 Stages of Meth Rehab
10.4 million Americans have tried crystal meth at least once. 1.3 million people have used it in the last 12 months. 512,000 have used it in the last four weeks. Highly addictive and equally destructive, this drug destroys millions of lives every day.
Most people need help to overcome a meth addiction, but seeking treatment can be intimidating or even terrifying. In the end, however, going through a professional rehab program doubles your chances of staying drug-free over the first two years of recovery.
Instead of letting a fear of the unknown keep you shackled to addiction, let's go over each stage of the process and what to expect from your meth rehab program.
Majority of young adults get prescription stimulants from a friend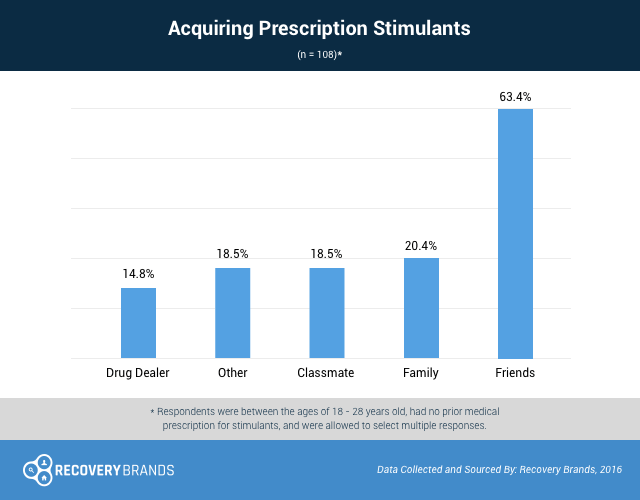 A surprising number of young adults get their hands on doctor-prescribed stimulant medications despite not having a doctor's recommendation. This is a major issue that may result in rampant misuse. But where do these college-age men and women get these prescription drugs? In 2016, a Recovery Brands survey found that a surprising 63% of young people between 18 and 28 years old get ahold of their stimulant medications via a companion. Almost 20.5% get access to them from family, less than 20% by means of a schoolmate, and only 14.8% through a street dealer. People with a prescription can help out by keeping track of their prescription ADHD stimulants in order to protect vulnerable people in their 20's from misuse and the consequences of it.
Read More
Step 1: Assessment and Planning
Before treatment begins, you'll sit down with a counselor and answer a lot of questions about your own experience with addiction. They'll use your answers to establish a recovery plan that's specifically tailored to meet your needs. Essentially, this is the paperwork step. As boring and time consuming as it may seem, try to remember that your responses help treatment providers gain valuable insight into how they can best help you.
Step 2: Detox
The next step is to remove the drugs from your system – otherwise known as "detox." Let's not sugarcoat things; the detox phase is a tough one. This process includes both physical and mental withdrawal symptoms – many of which can cause serious health problems. For that reason, an in-patient facility with 24/7 medical supervision is always recommended.
Withdrawal symptoms that occur when kicking meth include:
Nausea/vomiting
Chills and fever
High blood pressure
Heart palpitations
Fatigue
Depression
Increased appetite
Sleep disturbances
Tremors
Respiratory issues
Strong cravings
Seizures
Coma
Typically, withdrawal symptoms start within a few hours of your last use, then peak in intensity after a few days.
Step 3: Change and Growth
While detox focuses on the physical aspects of your addiction, this step moves on to the emotional, psychological and mental aspects. Individual, group and family therapy can help you understand why you started using in the first place.
When it comes to treating this aspect of meth addiction, rehab facilities have seen great success with psychotherapy – also known as "talk therapy." It teaches you new strategies and gives you the tools to deal with stress, unhealthy thoughts and harmful behaviors. In addition to talk therapy, you'll receive education about addiction, learn about tolerance and discover how the brain interacts with drugs. You'll also be provided with (or referred to) support services specific to your recovery needs.
When it comes to treating this aspect of meth addiction, rehab facilities have seen great success with psychotherapy – also known as "talk therapy."
Step 4: Follow-Up
Transitioning from around-the-clock services and support back into "the real world" can be extremely difficult. Once you leave rehab, you'll be referred for additional services designed to continue the support you need. The follow-up step usually includes organizations and programs that help with finding employment, furthering education, obtaining housing and managing finances.
Before leaving rehab, you'll work with a counselor to develop a solid relapse prevention plan. Putting that plan into motion once home will help you successfully navigate triggers, cravings and tempting environments. Combined with other support resources, this plan will help keep your feet firmly planted on the recovery path.
Take Our "Am I a Drug Addict?" Self-Assessment
Take our free, 5-minute "Am I A Drug Addict?" self-assessment below if you think you or someone you love might be struggling with drug addiction. The evaluation consists of 11 yes or no questions that are intended to be used as an informational tool to assess the severity and probability of a substance use disorder. The test is free, confidential, and no personal information is needed to receive the result.
Additional Reading:   Learning to Live (and Love) Without Crystal Meth
Image Source: iStock