Gas Station Bathrooms Use Blue Lights to Stop IV Drug Use
Gas station bathrooms have become a common place for IV drug users to shoot up. They're often unlocked, can be accessed without making a purchase, and provide a place out of sight from police.
For the homeless, gas station bathrooms are one of the few places where it's considered "safe" to inject.
Casting a New Light on IV Drug Use
In New Kensington, Pennsylvania, 174 overdose deaths occurred in 2016; the numbers are expected to be much larger this year.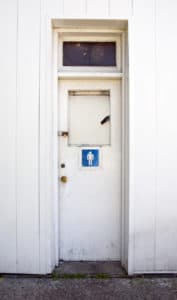 Those numbers led several New Kensington gas stations to take action against bathroom drug use in an unusual way: instead of lighting their bathrooms with regular lights, they installed "blue lights" – the kind of glow-in-the-dark lights you'd expect to see in a haunted house, but not necessarily a gas station bathroom.
The reason behind this "blue light special?" It makes it much more difficult for IV drug users to see their veins.
According to a CNN article, Sheetz gas stations' public relations manager, Nick Ruffner, said that the blue light strategy is "designed to help our customers and employees avoid dangerous situations."
Their perspective is understandable – using a public restroom where dirty syringes could be left on the floor or where someone could overdose would be dangerous to the public and gas station employees alike.
A Rising Death Toll
As IV drug users lose their homes or can't find shelters to accept those who are still using, they become more desperate to find "safe" places to use. Rural areas where there are fewer shelters and social services or harm reduction services, such as needle exchanges or safe injection sites, are seeing more overdoses in public places because homeless drug users have nowhere else to go.
The effect on the non-using population can be extremely upsetting. Sean, who grew up in Huntington, West Virginia, a town that experienced 26 overdoses in less than four hours back in 2016, recalls the day his sister found a person who had overdosed in a gas station bathroom. He said,"You feel like you're not safe anywhere."
Compassion or Scorn?
Is the danger real or is it simply fear of the stereotypical addict? And is it reasonable to expect that making it harder for drug users to see their veins will cut down on drug use? Or is it more likely the blue lights will just drive users to further injure themselves by trying to shoot up in virtual darkness?
Safe injection sites, social service programs, and decriminalization of drug use could save lives, reduce harm, and protect the public from dirty syringes. And gas station customers could use the bathroom in regular light.
Additional Reading:   Does Data Show Supervised Injection Sites Save Lives?

Image Source: iStock