Breaking Treatment Barriers in the LGBTQ Community
Being an LGBTQ individual poses a wide range of challenges – deciding when and how to come out to family and friends, dealing with discrimination and, depending on where you live in the country, safety concerns for simply being open about your sexuality, to name just a few.
Adding to that list, several recent studies confirm that navigating these stressful situations drives a disproportionately high number of people in the LGBTQ community to substances as a way to cope.
Data from the Substance Abuse and Mental Health Services Administration (SAMHSA) shows:
It's Time to Take Action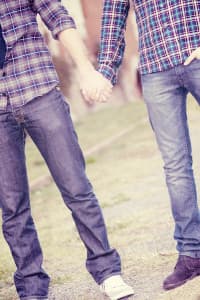 Widespread workplace discrimination prevents many LGBTQ people from having regular access to health insurance through their employers. Gay and lesbian adults are twice as likely as heterosexual to not receive health insurance coverage and the disproportionate rate is even higher for transgender individuals. Even those with access to health insurance can face difficulties in finding a competent doctor who is trained to work specifically with the LGBTQ population. This can result in them covering up their sexuality or even choosing to delay substance abuse treatment.
However, it's important to note that all insurance companies offering coverage for heterosexual couples are now legally required to do so for gay couples. Learn more about the insurance rights of LGBTQ couples here.
LGBTQ Meetings:Most 12-Step groups, including Alcoholics Anonymous and Narcotics Anonymous, offer a smaller selection of meetings for the LGBTQ community. These meetings can be found throughout the U.S. and help specifically address the issues that gay and transgender people face.
Online Resources:Although they aren't LGBTQ-specific, sober social apps including Clean Fun Network and Sober Social Grid can help connect you with other like-minded individuals in your area.
Rehab for LGBTQ Individuals:In response to this growing issue, many rehabs across the country have established programs for the LGBTQ population. There are even rehab centers specifically for gay men and women. In addition to the standard group and individual therapy of most rehab centers, LGBTQ-specific programs address how to handle unique problems this population faces, such as job discrimination or general homophobia, without resorting to substance abuse.
Boosting self-confidence and acceptance is also a key part of these programs, as a lack of either can lead to psychological issues and insecurities that result in drinking or drug use.
Additional Reading:   Are Gay Teens at Higher Risk for Addiction?
Image Source: iStock