3 Rules Carried Over by the Adult Children of Alcoholics
The walls around Dan's heart are so sturdy that they'd cause an advancing army to rethink its attack. Seemingly impenetrable, the borders are made of layer upon layer of emotional protection, built in response to years of childhood heartache and disappointment.
Like many children of alcoholics, Dan constructed this emotional fortress to keep everyone at a careful distance. No one gets in. Nothing gets out. It's safer this way.
Following the Rules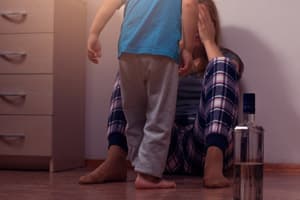 Emotionally, Dan is all alone. Statistically, however, he's far from it. One in every eight Americans is the adult child of an alcoholic. It is estimated there are 28 million children in the U.S. today who have alcoholic parents. That's a lot of walls being built.
Of course, not every child with an alcoholic parent is destined to turn into a carbon copy of Dan. Many, however, will follow a similar pattern. Parental alcoholism often leads to dysfunctional relationships, low self-esteem, depression, anxiety, and addiction. What's more, over 25 percent of children with an alcoholic parent go on to develop addictions of their own.
Dysfunctional Rules Breed More Dysfunction
These familial patterns of dependence-related destruction often stem from three core rules children adopt as survival mechanisms. The rules include:
Don't Trust
Don't Feel
Don't Talk
Children raised in a dysfunctional atmosphere that's drenched in alcohol learn quickly that their emotional survival may depend on following these above rules. Their basic needs aren't met, trust isn't experienced and they adopt these decrees to distance themselves from pain.
After leaving a family of origin, they continue following these rules as adults. While no longer needed for protection, the practices are ingrained and hard to break. It is hard to trust others. They fear speaking true thoughts. They are out of touch with their true feelings, which are never shared.
The rules create a three-pronged vice that presses on their hearts, preventing emotional freedom and stunting healthy relationships.
What's the Good News?
The good news is that most emotional trauma of childhood can be healed. Recovering from the wounds inflicted by a childhood overshadowed with alcoholism isn't easy, but it is absolutely possible.
The adult children of alcoholics can achieve emotional healing – and that's done through a progression of the following four steps:
Acknowledge: Similar to recovery from addiction, the first step is to admit the truth. You're from a dysfunctional family. You're an adult child of an alcoholic. You have feelings of sadness and anger. These truths are no longer denied. You allow yourself to experience these emotions.
Explore: How is your childhood affecting your relationships today? What impact has it had on your personal identity? These issues must be explored.
Integrate: New patterns of thought and behavior must be developed. These are integrated into your life to create healthier relationships with yourself and others. They involve self-acceptance, trust, honesty and expression of needs.
Activate: Using these newly integrated healthy patterns, actively interact with a new lifestyle you create. You're no longer a passive victim. Released from your three suffocating rules, you can learn to be a free and active participant in the world.
Additional Reading: How to Get Someone to Stop Drinking Alcohol (It's Not Easy)
Image Source: iStock