Addiction Rehab Treatment Resources for First Responders
Substance Use Rehabilitation for Firefighters, Law Enforcement, and Emergency Medical Services Personnel
First responders—including police officers, emergency medical services (EMS) personnel, firefighters, call takers, and dispatchers—have jobs that can expose them to traumatic incidents and can be overwhelming, disturbing, stressful, and upsetting. Stress intensifies vulnerability to addiction, and addressing dangerous, taxing, and physical and emotionally draining situations day in and day out may cause first responders to turn to alcohol or drugs in an attempt to cope.1
Use of alcohol and drugs may become the only way that first responders can manage the emotions and trauma as they encounter the worst of human experience, and it soon may become an issue that they can't control. Working in an environment that values courage and stoicism, members of this group may struggle to seek help for their addiction, fearing the loss of a job or of their very credibility. However, getting help is imperative to provide first responders the opportunity to find health both mentally and physically and be effective both at work and at home.
---
Police Officers: Stress, PTSD, and Addiction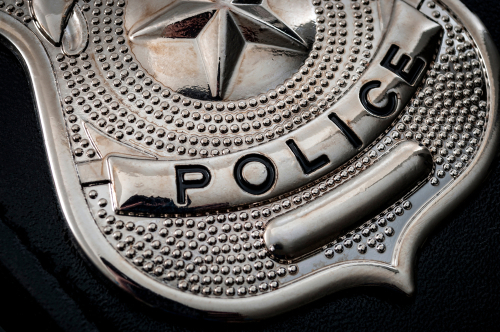 A career as a police officer means being in the midst of people's crises—shootings, domestic violence, horrific crime scenes—and putting your life at risk every day. The very anticipation of risk can also weigh on the mind. In addition to moments of high stress and fear, officers also often deal with challenging, often changing work schedules that include long hours and overnight shifts.
Between 7% and 19% of police officers show signs of post-traumatic stress disorder (PTSD), compared to 3.5% in the general population. Almost 1 in 4 officers have considered suicide at some point, and police die more by suicide than by homicide, with police suicides 2.3 times that of homicide.2,3 These major stressors contribute to the high risk of mental health issues and substance use disorders (SUDs).
Addiction for police officers is a serious problem. In fact, 1 out of 4 police officers has an issue with drugs or alcohol, and 20-30% of officers deal with SUDS, compared to less than 10% in the general population.2
---
Firefighters: Stress, PTSD, and Addiction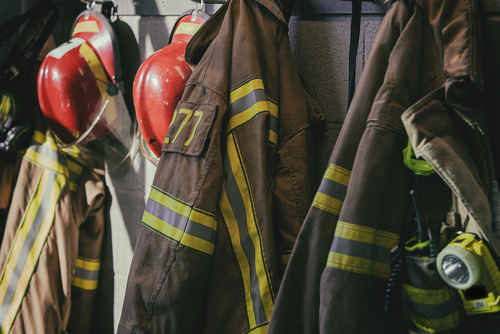 Facing an increased and anticipated risk of encountering life-threatening and traumatic events due to their work, firefighters are often expected to deal with medical emergencies in addition to vehicle accidents and fire incidents. Beyond the traumatic events that firefighters encounter, they also deal with long, ever-changing shifts in which they might get little to no sleep. Physical and emotional exhaustion, as well as high levels of stress, further increase the risk of substance misuse.
Firefighting is a highly dangerous and stressful career, and firefighters put their lives at risk and witness the pain and suffering of others. Exposed to various stressors, firefighters can experience PTSD at a level as high as 20% of that population—with one study putting that number as high as 30%.3,4 And in a national sample of firefighters, PTSD symptoms were identified as being associated with 5.2% higher chance of an attempted suicide during the firefighting career.5
Alcohol use plays a powerful role in the lives of many firefighters, and alcohol is actually the most regularly misused substance for firefighters. In a survey by the Center for Fire Rescue and EMS Health Research, 85% of career and 70% of volunteer firefighters reported drinking in the past month.6 Also, in the past 30 days, 56% of career and 45% of volunteer firefighters reported binge drinking. Prescription and illicit substances are also used, and this is especially a huge problem because the addiction can start with an injury that occurs on the job.6
---
EMS: Stress, PTSD, and Addiction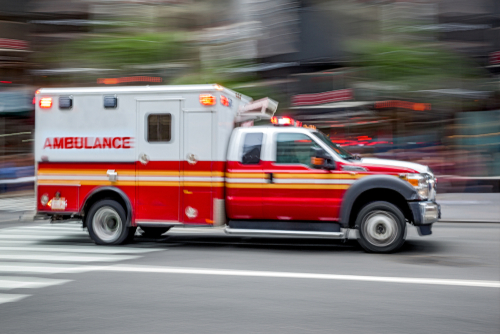 EMS personnel provide support and care to victims of everything from fires and vehicle accidents to domestic violence incidents and mass shootings. These are high stress, emotional situations that can also involve fear and risk for the responders. In addition, personnel have hectic schedules that often do not allow them the necessary time to recover from an incident as they are subjected to repeated traumatic events. In fact, according to one study, 69% of EMS personnel never had the needed time to recover between traumatic events.5
PTSD has been reported among those who work on ambulances at close to 20%.3 One study revealed that there was a lifetime prevalence rate of 28% feeling life is not worth living, 10.4% had serious suicidal consideration, and 3.1% for a past suicide attempt.3 In addition, another study found that combining firefighting and EMS duties lead to a six fold increase in the chance of reporting a suicide attempt—versus firefighting alone.3
Just as with firefighters and police officers, EMS personnel deal with trauma regularly, and alcohol and substance abuse can occur as they search for something to help them cope.
---
Treatment Options for First Responders
With such challenging statistics to overcome, first responders need to choose to seek treatment for their alcohol and drug addiction. Trauma can have a lasting effect on one's mental and emotional well-being, so first responders should look for programs that provide treatment that is informed by that trauma.7 PTSD and SUDs often occur together, and treatment of these co-occurring disorders together can be more complex than treatment of either individually.8
The chance of recovery will be more possible if the treatment takes into account the trauma, PTSD, and other issues that the patient is dealing with, in addition to the SUD.7 There are various treatment options available, and one will be the right fit for you.
Detox
Depending on the misused substance, treatment often begins with detoxification (detox). The process through which the body clears itself of drugs, detox is meant to manage the severe and potentially dangerous effects of stopping drug use.10 Because detox may bring on unpleasant and even fatal withdrawal symptoms, it may need to be overseen by a medical professional who can provide care and medications that will manage the discomfort and risk.10
While detox is the first step on the road toward recovery, it does not tackle the mental, social, and behavior problems connected with addiction.10 Therefore, detox should be followed by a treatment program that will allow the patient to identify and address the issues that led to the drug or alcohol misuse.
Inpatient vs. Outpatient Programs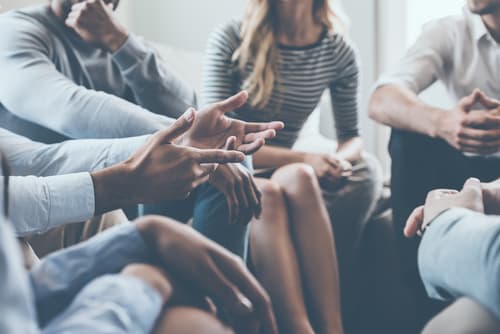 There are numerous types of drug, alcohol, and behavioral disorder treatment programs for first responders who wish to overcome addiction and stop using drugs. When pursuing treatment, patients should be aware that there are inpatient and outpatient options, and both can lead to success on the road to recovery.
An inpatient program provides around-the-clock care and supervision, often from healthcare professionals, and places patients in an environment where they can more easily avoid outside temptations that impact their SUDs. Inpatient programs will vary in their types of treatments offered and additional program details, including length of stay. Providing a high level of resources, inpatient treatment may be especially valuable for those who do not have a strong support structure outside of treatment or who are dealing with co-occurring disorders that require a structured environment.9
Outpatient treatment allows patients to obtain treatment while living at home and attending school, going to work, etc. It is usually recommended for patients who have less severe addictions. Outpatient treatment can vary in the types of treatment and intensity of services provided. It can be offered in both an individual and group setting.9 Outpatient does not provide the same intensive round-the-clock coverage as an inpatient program but is more flexible and allows the patient to be with their family when not at the facility. This form of treatment may be best for those who have strong social support that they can rely on.10
Therapy
Therapy is a key component of rehab, in both inpatient and outpatient treatment, and it is available in different setting with various approaches. Behavioral therapies—such as individual, family, or group counseling—are some of the most regularly used forms of treatment for SUDs.11 They may involve helping patients modify their perception and behavior connected to drug use, providing incentives for substance avoidance, building skills to resist the pull of drugs and alcohol, building better interpersonal relationship, increasing positive life skills, and continuing with other treatments (including medication).11,12
Forms of behavioral therapy that may be offered include the following:12
Cognitive-Behavioral Therapy: This therapy helps patients identify, avoid, and deal with the situations where they are most likely to misuse drugs and alcohol.
Multidimensional Family Therapy: This therapy focuses on both the drug user and their family and addresses various influences that impact their drug use patterns. It is designed to improve family connections and function.
Motivational Interviewing (Contingency Management): This therapy uses positive reinforcement to motivate self-restraint from drugs and alcohol.
In addition to these behavioral therapies, participating in group therapy and additional peer support programs while in treatment and after can help continue recovery. There are therapy and support groups made up of first responders that allow for the sharing of common experience and understanding. Common ground and trust can create greater comfort and confidence in confiding in others.
---
Aftercare
After the completion of detox (if necessary) and rehab, it is important that those in recovery create a plan for aftercare. Aftercare provides the support that is necessary to help avoid relapse. It can involve seeking ongoing support through individual therapy, group counseling, 12-step and alternative groups, and sober living homes.
Aftercare, like rehab, should involve treatment that focuses on the entire person and their needs, not just the substance abuse. Programs may address the following:
Relationships
Childcare.
Housing and transportation.
Finances.
Legal involvement.
Education.
Medical status.
Mental health.
Recovery is an ongoing process that does not end once rehab is over. Rather, continued work, therapy, and support are necessary so that those with SUDs stay clean and sober and find happiness and health.
---
Frequently Asked Questions
Are Drugs or Alcohol Affecting Your Work as a First Responder?
If you are a first responder for the protection and care of the community, an addiction or behavioral disorder can severely impact your work.
Are There Legal Consequences of Using as a First Responder?
First responders face the same criminal consequences of illegal drug use, and police may face other types of consequences because of their sensitive work in the judicial system with people charged with drug offenses.
Will My Company Keep My Treatment Private and Confidential?
Your care should be kept confidential, but speak with your supervisor to ensure this is the case.
Will I Be Able to Keep My Job if I Undergo Treatment?
You should be able to keep your job, and receiving care is essential to making sure you perform your job well.
Can I Continue to Work During Treatment?
This depends on whether you receive inpatient or outpatient treatment. In outpatient treatment, you may be able to continue working.
Can I Use My Phone or the Internet During Treatment?
During an inpatient treatment program, the patient is typically cut off from most outside contact.
---
Recommended Rehab Treatment Articles
Sources
Sinha, R. (2008). Chronic Stress, Drug Use, and Vulnerability to Addiction, Ann N Y Acad Sci, 1141, 105-130.
Cidambi, I. (2018). Police and Addiction.
Skogstad, M., Skostad, M., Lie, A., Conradi, H.S., Heir, T., Weisæth, L. (2013). Work-related post-traumatic stress disorder, Occupational Medicine, 63(3), 175-182.
Boffa, J., Stanley, I.H., Smith, L.J., Mathes, B.M., Tran, J.K., Buser, S.J., Schmidt, N.B., Vujanovic, A.A. (2018). PTSD Symptoms and Suicide Risk in Male Firefighters: The Mediating Role of Anxiety Sensitivity. J Nerv Ment Dis, 206(3), 179-186.
Substance Abuse and Mental Health Services Administration. (2018). Disaster Technical Assistance Center Supplemental Research Bulletin: First Responders: Behavioral Health Concerns, Emergency Response, and Trauma.
S. Fire Administration. (2016). Critical Health and Safety Issues in the Volunteer Fire Service.
Substance Abuse and Mental Health Services Administration and U.S. Department of Health and Human Services. (n.d.). Trauma.
McCauley, J.L., Killeen, T., Gros, D.F., Brady, K.T., Back. S.E. (2012). Posttraumatic Stress Disorder and Co-Occurring Substance Use Disorders: Advances in Assessment and Treatment. Clin Psychol, 19(3).
National Institute on Drug Abuse. (2014). Principles of Adolescent Substance Use Disorder Treatment: A Research-Based Guide: Treatment Settings.
National Institute on Drug Abuse. (2018). Principles of Adolescent Substance Use Disorder Treatment: A Research-Based Guide (Third Edition): Types of Treatment Programs.
National Institute on Drug Abuse. (2018). Principles of Adolescent Substance Use Disorder Treatment: A Research-Based Guide (Third Edition): Principles of Effective Treatment.
National Institute on Drug Abuse. (2019). DrugFacts: Treatment Approaches for Drug Addiction.
More resources about
Addiction Rehab Treatment Resources for First Responders

: