Drug and Alcohol Addiction Therapy Services
What is Addiction Therapy?
Treating addiction involves much more than simply not using substances. Rehabilitation (rehab) programs provide drug and alcohol addiction therapy service in both individual and group formats, and utilize a variety of therapeutic techniques.
Many of these techniques involve cognitive and behavioral components aimed at reducing undesired behaviors and promoting positive, healthy, and sober behaviors. Addiction rehab therapy can be provided in an inpatient or outpatient treatment setting.
Addiction Rehab: Inpatient Facilities vs. Outpatient Clinics
Inpatient Rehab Centers
Inpatient centers allow patients to live on site and have access to 24-hour care. Therapists work with patients individually, as well as in groups, to determine the psychological reasons behind their addictions. Treatment also involves learning how to prevent relapse by identifying high-risk situations and practicing coping techniques to maintain sobriety.
Outpatient Rehab Centers
Outpatient centers allow patients to meet therapists during scheduled appointments, as well as attend a certain number of group sessions on a weekly basis. This kind of program allows patients to come and go so they can maintain a somewhat normal day-to-day life while receiving treatment.
If you or someone you love is struggling with relatively severe drug or alcohol addictions, you may benefit from the therapeutic interventions and immersive environment of an inpatient drug rehab center. Inpatient drug rehab centers can provide the intensive therapy and tools needed to defeat addiction and get back on the path to a healthy, happy and productive life.
Getting help for addiction is one of the most important choices you can make for yourself or someone you love. The decision to seek treatment is hard and should not be made lightly. Ultimately, the decision to receive treatment on an inpatient or outpatient basis will be made after considering a number of personal needs and preferences and, ultimately, based on the recommendations of an addiction treatment professional. Knowing what these factors are and how they impact your treatment can help you make the right choice about where to go for help.
Do I Need a Residential Addiction Rehab Facility?
Outpatient clinics can be a good treatment option for those with more recent or less severe addiction and with strong support systems in place at home. On the other hand, a residential rehab facility may be the best choice if the user will likely have a hard time stopping the use of drugs or alcohol in his current environment.
A residential program may be appropriate if the addiction is severe or long-lasting, social support is weak, home life is chaotic or triggering, or chronic relapse is an issue. Inpatient or residential programs are able to more completely separate daily life and its stressors from life in rehab, which gives the individual time and space to focus solely on recovery.
Is Addiction Rehab Therapy Private and Confidential?
Every inpatient and outpatient facility keeps patient records private and confidential. Treatment facilities are required to adhere to the Health Insurance Portability and Accountability Act, a federal law also called the privacy rule. This means that a facility requires consent from each patient to release any information, except in the event of a medical emergency. Rehab facilities cannot legally disclose any information to the employer, family, or friends of a patient unless the patient has signed a consent form.
What Can Addiction Therapy Service Treat?
Addiction rehab therapy service treats many different types of addictions substance use disorders. Talk therapy and behavior therapy focus on the reasons behind addiction, changing thoughts and behaviors (some of which may be unconscious), and developing the skills needed to maintain sobriety. Some of the addictions that are treated with addiction rehab therapy include:
How Long Does Inpatient Addiction Rehab Last?
Inpatient addiction rehab can last for differing amounts of time depending on the level of physical and mental dependency, the severity of the addiction, and whether any co-occurring mental or physical health issues are present. Some popular options include:
Programs can be tailored to suit the individual needs of patients. Recovery progress will be continually assessed, and treatment times can be adjusted up or down to accommodate the variability. Individuals with very severe addictions, co-occurring disorders, or those who chronically relapse may benefit from longer-term residential treatment durations, such as 120-day or beyond.
Additionally as a part of a solid aftercare plan, some form of ongoing substance abuse therapy will often be continued after inpatient rehab is completed, extending well beyond treatment lengths and in some instances indefinitely.
How Does Addiction Treatment Therapy Work?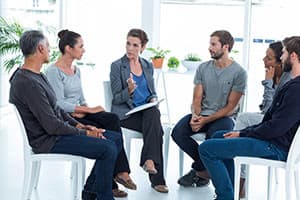 First, a patient must complete the intake process. During this time, the patient provides information, such as a physical and mental health history, substance abuse history, insurance documents, and consent forms to start treatment. Many patients begin the recovery process with a formal detoxification or detox period, during which the body clears itself of the toxic influences associated with the particular substance or substances that they have been using.
Detox
Detox is typically completed within a few days to a few weeks, depending on the substance used and the severity of the physical addiction. Detox completely eliminates the drugs or alcohol from the body. During various specific drug detoxes, withdrawal can be medically monitored, with pharmaceutical intervention, if needed for patient safety.
Individual Therapy Sessions
Upon successful completion of detox, those in treatment graduate to the substance abuse therapy portion of rehab. With no drugs or alcohol in the body, the patient can move on and meet with a treatment team, as well as with other patients in the program. Addiction therapists work with patients to address the psychological addiction to drugs or alcohol through individual therapy sessions, group therapy, 12-step programs, and other therapeutic modalities.
Group Therapy Sessions
Therapy in groups provides a number of benefits. These can include minimizing the sense of isolation that often accompanies addiction, sharing experiences and feedback on the challenges in early sobriety, and providing peer support and motivation to remain sober. Group therapy also aims to help patients connect with one another on an emotional level, which can help build bonds that will provide support outside of treatment. Peer support is an integral part of recovery from addiction.
After rehab, patients can continue to attend outpatient therapy or private therapy to maintain their new drug-free lifestyle and to lower the chances of relapse.
Paying for Addiction Rehab Therapy
Treatment centers have different prices. These prices may depend on whether the therapy is inpatient or outpatient in nature. An outpatient facility will nearly always be less expensive than an inpatient facility. This is because inpatient facilities provide 24-hour care, food, housing, and maintain the well-being of the patients.
Many facilities accept health insurance, although what is covered can vary widely based on the plan and the facility itself. Addiction rehabs often have financing options, allowing patients to negotiate a payment plan. Some facilities provide treatment on a sliding-scale fee, based on income and resources. Addiction rehab therapy can be successfully completed in many different settings, so if one doesn't fit the budget another might.
Learning More About Addiction Rehab Therapy
Addiction rehab therapy has many important factors that you may wish to learn more about, including:
Addiction Rehab Therapy Methods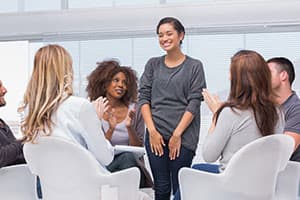 Treatment methods have been created to fit the needs of a variety of people. Some of these methods focus on spirituality, religion, or nonreligious needs. Some that might be offered include:
Addiction rehab therapy can be modeled on any of these programs, or in some cases a special program may be developed for a patient when necessary. Consider the variety of therapy options before starting, and ask each facility which treatment philosophy they subscribe to. This will help ensure that the clinic is a good fit.
After Addiction Rehab Therapy
At the addiction rehab center or when you are scheduling a visit, you may want to ask about:
There are different ways to manage extended care, sobriety, and to help prevent relapse. Each facility will have information regarding these categories.
Finding the Right Addiction Rehab
Finding the right addiction rehab is a huge step. It can be intimidating, especially with the many treatment facilities available. No matter how serious the addiction has become, addiction rehab therapy can work, allowing people to reclaim their lives, health, and happiness. Treatment facilities can help individuals free themselves from the chains of a substance use disorder or a behavioral addiction.
Sources
U.S. Department of Health and Human Services. (2016). Your rights under HIPAA.
Center for Substance Abuse Treatment. (2005). Substance abuse treatment: Group therapy.
More resources about
Drug and Alcohol Addiction Therapy Services

: