How is Exercise Addiction Treated?
So you've identified the problem. You (or someone you know) cannot stop exercising at a level that introduces extreme conflict, distress, pain, and injury into your own (or their) lives. You've decided to try to get help.
You've reached out to mental health professionals, perhaps some personal trainers, looked for support groups, and what have you found?
Unfortunately – in part because the subject of exercise addiction is so new, but also because a lack of research has been conducted into treatments for the issue – there is no formal treatment specifically designed to treat exercise addiction. However, some preliminary protocols are being developed to address the problem of overzealous or otherwise unhealthy forms of exercise.
Addressing and Assessing the Problem
Recognizing the need to challenge distorted beliefs about exercise among individuals enrolled in inpatient eating disorder treatment facilities, as well as the need to teach individuals who have abused exercise what a healthy amount of it looks and feels like, Syracuse University researchers Rachel M. Calogero and Kelly N. Pedrotty designed and tested an exercise re-programming protocol in 2004.
The first focused on connecting with bodily sensations during exercise – especially energy levels, fatigue, and pain – as well as avoiding comparisons with others and learning about the purposes of exercise apart from weight-focused (or calorie-focused) goals. The second focused on balancing increased intensity and frequency of exercise with previously learned body-awareness. The third focused on specific struggles each patient had with exercise (i.e., running too much or obsessing over a specific routine) and increasing each patient's autonomy in selecting which activities they would engage in.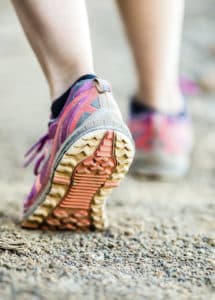 A total of 127 women participated in this program and were given several questionnaires at the beginning and end of the study, including one that assessed the severity of their eating disorders and another that gauged the severity of their dependence upon physical activity, at the beginning and end of their stays (which averaged 27 days). All subjects showed decreases in the rigidity with which they approached and engaged in exercise as well as decreases in their intentions to continue exercising in disordered (i.e., purely weight- or calorie-focused) or overzealous manners.
To ensure that the subjects' adjustments in attitudes towards and relationship with exercise were not solely due to additional services provided by the inpatient eating disorder facility (i.e., nutritional interventions and psychotherapy) the researchers also monitored over 100 other inpatients who did not undergo the same exercise reprogramming protocol. These women (the "control" group) did not show any significant improvements in their attitudes towards exercise at the time of their discharge.
Calogero and Pedrotty reason that the repeated exposure to healthier principles surrounding exercise (as well as the physical and emotional experience of exercising in a more balanced and moderate manner) enabled previous exercise abusers to "'buy into' or internalize different beliefs about the practice and process of healthy exercise." In reporting on their research in the journal Eating Disorders, they add that "providing an opportunity to address exercise problems in the moment, as well as time to discuss feelings and thoughts stimulated by exercising, may have enabled the women to confront and alter destructive and distorted attitudes."
Analyzing the Results of the Study
Calogero and Pedrotty's research demonstrates that, with an appropriate intervention, maladaptive thoughts about and behaviors involving exercise can be favorably altered to recalibrate how former over-exercisers can engage in physical activity in a more balanced and less self-destructive manner. It also suggests that comparable interventions (like working with clients not just in a traditional therapeutic office setting but also in the context of a fitness facility and/or with the help of a personal trainer or other fitness professional) may be worthwhile for individuals in outpatient settings.
Ultimately, any treatment geared towards reducing or modifying exercise behaviors must toe the line between helping the client remain active while ensuring that their activity, even in reduced form, is not carried out in an obsessive and self-damaging way.-Katherine Schreiber
There may be no formal treatment for exercise addiction that is as validated by research to the extent that, say, Dialectical Behavior Therapy (DBT), Cognitive Behavioral Therapy (CBT), and other therapies for addressing other psychological issues and behaviors are. But the work of Calogero and Pedrotty offers a blueprint for a more formal exercise addiction treatment paradigm to be codified.
For now, individuals struggling with exercise addiction can seek out a personal trainer versed in excessive physical activity – such as those certified through psychotherapist Jodi Rubin's Destructively Fit. They can also seek out well-established therapies for help dealing with the underlying thoughts, potential emotional dysregulation, and self-destructive inclinations that may be fueling excessive exercise. Cognitive behavioral therapy, dialectical behavior therapy, Eye Movement Desensitization & Reprocessing (EMDR), and various forms of psychodynamic therapies, for instance, can ameliorate symptoms of compulsive behaviors, obsessive thoughts, eating disorders, and even suicidal ideation – all of which can help reduce the distress and potentially dial down the propensity to exercise overzealously in someone who struggles with exercise addiction.
Ultimately, any treatment geared towards reducing or modifying exercise behaviors must toe the line between helping the client remain active while ensuring that their activity, even in reduced form, is not carried out in an obsessive and self-damaging way. The goal isn't to eliminate exercise from an individual's daily and weekly routine; rather, it is to adjust the individual's relationship with physical activity so that exercise no longer precludes them from enjoying and participating in life outside of the gym.
Images Courtesy of iStock