Luxury Alcohol Rehab
If you struggle with alcohol abuse, know that you aren't alone. Many people develop compulsive drinking patterns that negatively impact their lives, and sometimes the only way to get sober is to enroll in a rehab program. These programs can vary greatly depending on location, philosophy, price, amenities, services, therapy types, among other factors. For example, luxury treatment programs combine upscale amenities and services, such as gourmet meals, spa treatment, and massage therapy, with traditional treatment methods, such as psychotherapy.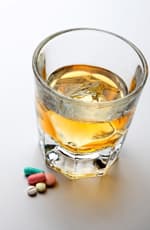 There are few things scarier than realizing alcohol has a serious hold on you – or someone in your life. While it's consumed every day, all around the world, at celebratory events and joyous occasions, alcohol has a dark side – a very dark side that can lead to total destruction of a person's life. For those who struggle with the effects of alcohol in their life, luxury alcohol rehab can provide the real help they need to step over to the other side.
Effects of Alcohol
It's hard to believe that something that is so socially accepted, and healthy when consumed in reasonable amounts, can be so deadly. While moderate alcohol consumption does not cause serious health problems, those who consume alcohol at high levels over a long period of time can suffer from serious health consequences. According to the National Institute on Alcohol Abuse and Alcoholism, these health issues include:
Nerve damage
Liver disease
Sexual issues
Brain damage
Vitamin deficiencies
Vision damage
Intestinal problems
High blood pressure
Heart disease
Stomach cancer
Throat cancer
Amnesia
"No one sets out with the intention of becoming an alcoholic. Instead, drinking gradually increases over time until the individual is drinking excessive amounts."No one sets out with the intention of becoming an alcoholic. Instead, drinking gradually increases over time until the individual is drinking excessive amounts. With regular drinking, the body's tolerance to alcohol increases, meaning the user has to consume more alcohol to achieve the same effects they could previously achieve with a lesser amount. This creates a cycle where the individual is continually increasing the amount they drink, thereby raising the body's tolerance to alcohol.
When an alcoholic attempts to stop drinking, it can throw the body into a state of disorder. According to WebMD, alcohol withdrawal is extremely serious and should be addressed by medical professionals immediately as it can result in death. Symptoms of alcohol withdrawal include:
Shaking arms or hands
Excessive sweating
Sleeplessness
Nausea
Anxiety
Muscle aches
Headaches
Depression
Nearly 70% in Recovery Struggle with Alcohol Abuse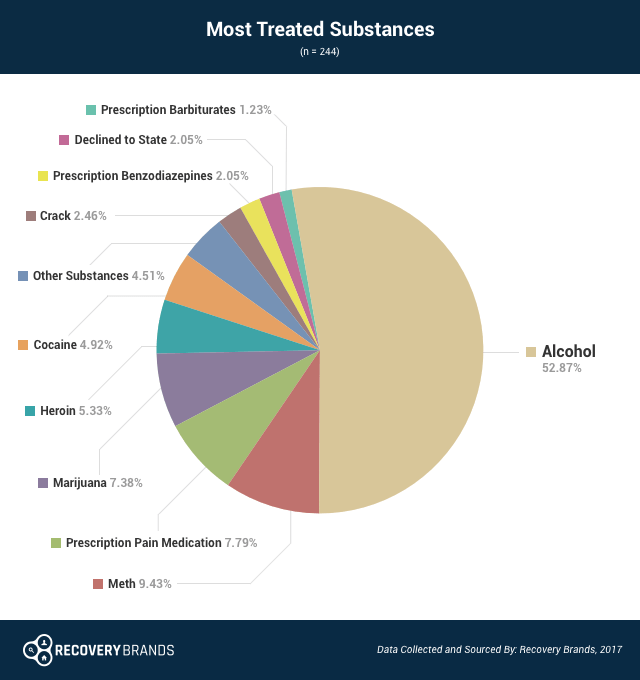 Alcohol is one of the most predominant substances of abuse in treatment attendees, as a survey conducted by Recovery Brands in 2017 shows. The survey found that 68.85% of people in recovery struggled with an alcohol abuse problem, and nearly 53% of respondents said that alcohol was the substance that they sought the most treatment for. Regardless of how many substances of abuse there are, alcohol seems to cause the most extensive damage.
View Large Graph
If you've been drinking for a long period of time, or if you drink large amounts of alcohol, it's important to undergo treatment in a professional rehab center. Luxury alcohol treatment programs can monitor you during the detox process, ensuring that you remain safe and stable throughout it. If you experience any complications during the withdrawal process, medical professionals will be on hand to react promptly and to ensure your safety. This is why it is imperative that you are in a medical situation, and do not attempt to detox on your own at home.
The Treatment Process at Luxury Alcoholic Rehab Centers
Following intake, the detox process is the key first component in the recovery process at most luxury alcohol rehab centers. If the center does not have a detox facility on site, they may refer you to a specialized detox center or a local hospital where you can complete the detox process under medical care. According to the National Institute on Drug Abuse, detox is not a form of addiction care on its own. It must be followed by a full rehabilitation program in order to promote recovery in the alcoholic.
After detox, you will enter into the primary portion of care at the luxury alcohol rehab. This will include therapy that will address the core reasons behind your alcohol abuse issues, ultimately what led you to begin drinking excessively in the first place. This therapy may take place in many formats. First, individual therapy is essential to any solid treatment program. You may meet with your therapist in an individual setting daily or a few times a week. Your therapist may utilize various therapy models throughout the process to fully explore your personal situation and help you to develop tools to deal with triggers that prompt you to drink.
"Group therapy is another important part of the treatment process at most centers."Group therapy is another important part of the treatment process at most centers. Since it's likely that you'll be surrounded by similar individuals at luxury alcoholism rehab, it's likely that you'll learn from them in group therapy sessions. You'll have the chance to share your experiences in addiction and recovery, if you wish, and you'll also get to listen to the experiences of others. Group therapy often forms the basis of a social support system which can prove to be critical in the recovery process. Many people make friends and ultimately find good sources of support in luxury alcoholic rehab programs, and they can turn to these people for support when they are tempted to relapse in the future.
Family therapy can also help to mold your support system in rehab. Most luxury alcohol rehab programs offer some form of family therapy, and in these sessions, you and your family can begin to repair the lines of communication that may have been broken during active addiction. Family comes in many shapes and sizes so you aren't restricted to only inviting your blood relatives to family therapy.
In addition, you may enjoy a variety of alternative therapies in luxury alcohol rehabilitation, such as adventure therapy, animal-assisted therapy and art therapy. The key is to find the type of therapy that speaks to you in your recovery. At luxury treatment centers, you can try various forms; if something doesn't appeal to you, you can try something else.
What Happens After Luxury Alcohol Rehab?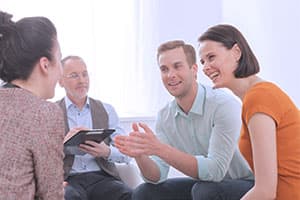 Since luxury alcohol rehabilitation programs offer optimal care, you aren't on your own once you have graduated the program. Most luxury centers offer extensive aftercare for their patients, inviting them back to the center for touch-up weekends if needed. In addition, the program will connect you with solid aftercare programs in your local community so you'll have a local support system in place. You can also call the center whenever you need advice or just someone to talk to. When you exit the grounds, you aren't alone in your recovery.
If you'd like help finding a luxury alcohol rehabilitation center that can help you achieve the lasting recovery you want, call us. We can link you to the best luxury rehab center for you – one that can help you leave alcohol behind for good and embrace a new life in recovery. Please don't hesitate to call us today.
More resources about
Luxury Alcohol Rehab

: