Youth Involvement in Community Mental Health Initiatives: CHC's Teen Wellness Committee
As a teenager myself, I understand the challenges of having young people's voices heard. We are not often given the space or platforms to speak up, and many think we are "incapable" of creating movements or positive change. However, I can say for a fact that young people can initiate and drive any movement, especially when we join forces with our peers.
I have been a member of CHC's Teen Wellness Committee for the past two years. For this article, I interviewed one of my peers who has also been a member since the beginning.
CHC's Teen Wellness Committee fosters collaboration among a small group of local high school students who are passionate about fostering awareness and proactively reducing mental health stigmas through innovative community projects.
Interview With Lindsay R: Member of CHC Teen Wellness Committee
Nadia: When did you first join CHC's Teen Wellness Committee (TWC)? Why did you decide to join?
Lindsay: I joined CHC's TWC at the beginning of my junior year of high school, so I have been a part of it for the past two years. I decided to join as I have had personal experiences with mental health, an interest in mental health after taking psychology classes, and my grandmother who volunteered at CHC informed be about the group as a potential interest for me.
Nadia: What happens in a typical CHC TWC Meeting? What do you enjoy most about the meetings?
Lindsay: In a typical CHC TWC meeting, we all come in and sit down, do check-ins to see how everyone is doing, go over announcements/discuss any news, work on our current project – either in a big discussion or in small groups – and then come back together to reconnect and talk about the next meeting.
My favorite part about the meetings is getting to connect with fellow members, Katie and Christine, and having the opportunity to talk about what we are all so passionate about. It is the perfect environment to work while connecting with others.
Nadia: Can you describe some of the projects you have worked on while serving on the CHC TWC?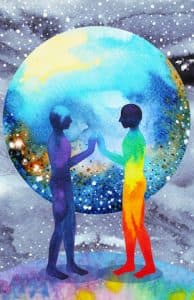 Lindsay: While serving on the CHC TWC, I have worked on the Speak Mindfully campaign and the book we wrote this year. I have also participated in many panels and attended events and meetings to share information about the committee and spread the word. The Speak Mindfully campaign is the project we took on last year (in 2017) as a group after deciding that language use was a main area we could focus on in order to reduce the stigma behind mental health. Therefore, we made posters and a website where community members could pledge to "Speak Mindfully" when using words related to mental health. The website included what to say/what not to say along with other information about the campaign.
This year, we wrote a book entitled Just a Thought: Uncensored Narratives on Teen Mental Health after deciding we wanted to target multiple audiences to see through the eyes of teens. We decided to come up with chapters for different groups (friends, parents, teachers, and me!) where we would have a Q&A type narrative. Therefore, we spent lots of time coming up with what these questions would be, putting them in a survey to send to all of our fellow high schoolers and local students, going through the responses, and putting them together into book format.
Nadia: Why is the book Just a Thought: Uncensored Narratives on Teen Mental Health important for our community?
Lindsay: This book is extremely important to our community because, especially in the Silicon Valley, there is a lot of competition and pressure among young people to "succeed" in life. Making mental health a priority often gets lost in all of the stress, so hopefully this book will make people realize just how important mental health is and how teens see it.
Nadia: How do you hope the book will impact readers/ the community? And, if readers were to have one main take-away from the book, what do you think it could be?
Lindsay: I hope it will make them realize that mental health is just as important as physical health and should be the first priority. Also, teen voices are invaluable and should be heard more often in adults' or administrations' decision-making.
And if I could envision one main take-away from this book, it would be: Put mental health first and listen to your peers/kids/students/self!
Nadia: Which chapter of the book did you enjoy writing most? Which chapter are you most excited about?
Lindsay: The book is divided into four chapters: For Friends, For Parents, For Teachers, and For Me. I personally took on the "For Parents" chapter, as I think that it is really cool to learn about both the positive and negative experiences when it comes to parents and youth mental health. They are the people with the most influence on us and definitely the people who will want to read this book.
Nadia: How has being involved with CHC's TWC shaped you as a person and as a mental health advocate?
Lindsay: CHC's TWC has helped shaped me as a person as it has allowed me to identify something I am truly passionate about. For a long time, I had no idea what to say my hobbies were or what to call myself, but this group has definitely helped me define myself. I love talking to others about it, spreading the word, participating on panels, and taking it to other schools. It feels really good to see other peoples' faces when they find out what we are doing!
Nadia: Do you feel there are sufficient opportunities for young people to get involved and make a difference around mental health/advocacy? And how can schools and administrations do a better job of including young people in decision-making processes around students' mental health/wellbeing?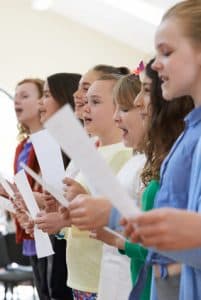 Lindsay: I definitely think more opportunities are opening up as there are many organizations such as SafeSpace, One Love, etc., but there needs to be more awareness of these organizations and a collaboration between all of them, as I think they could all come together to make a huge impact.
Schools and administration can do a better job of including young people by asking their students about their mental health and actually listening and making the changes that the students need and want to see happen.
By supporting students with a wellness center, after-school clubs, wellness days, and more, the students will feel safer and happier being at school.
Nadia: How do you envision using your experiences with CHC's TWC (and any other mental health initiatives you have been involved with) in your future career or life path?
Lindsay: I am studying psychology at the University of San Diego next year in hopes of become a therapist, so my future career path will hopefully be centered around promoting mental health. CHC's TWC has allowed me to discover this interest and stick with it as well as teach me how to express my feelings in a meeting setting and work well with others on project-based initiatives.
Images Courtesy of iStock