Why You Should Not Try Opiate Detox from Home
You've realized you've got an opiate addiction, and you need to detox. You'd prefer to do it at home – it's private and it's cheap. Unfortunately, it's also not nearly as simple as it sounds.
Going cold turkey from opiates is a very painful process. There's no doubt about it. It's been described as having needles under the skin; as having strange crawling sensations; and as being incredibly nauseating. It's really not a nice process, and it's not something you want to go through alone. If you have family, it's not really something they want to see, either. Basically, the nerve receptors get used to the amount of drug that you have in the system; without that drug, they become much more sensitive.
So that all said, why should you go through withdrawal in the first place?
Why Withdrawal?
First, and perhaps the most obvious, drugs are bad. It's a bit of a simplistic argument, but it's one that has merit. Opiates have a number of dangerous side effects, including respiratory depression, sedation, and constipation. While that doesn't sound particularly bad, it basically means you can't focus, do things, or poop while on opioids.
In addition, if you're suffering from opiate addiction, you're spending too much time worrying about your next hit of the drug than you are living your life. You might not even be able to afford the habit, which raises questions of how are you getting the money to pay for it.
You might also find yourself missing important milestones in your child's development, or you may forget to do basic things in your search for your next hit of oxy, like pick up your kid, attend a meeting, or even attend work.
This is the main reason why addiction is so dangerous: it affects your life to the extent where you can no longer live it like an ordinary person. If you miss work too often, you won't have an income; if you forget to do basic things for your children, you won't be able to keep your children; if you forget to come home at the end of the night, you'll end up losing your partner.
So, once you've worked out that you've got an addiction to an opiate, whether it's heroin or hydrocodone, you need to seek help.
Getting Help, Treatment Centers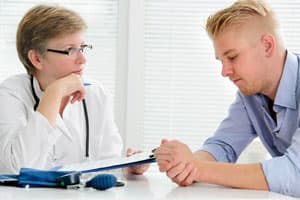 Getting help is actually relatively easy—there are hundreds of centers around the country who can help you with opiate detox. Of course, it's easier when you use an aggregation service that can reliably advise you on who to go with and who meets your needs, which is why we have established a toll-free one to get you started .
In an addiction clinic, you'll get the appropriate medication you need, such as buprenorphine or methadone depending on what you were originally addicted to. These help to wean you off by reducing the euphoria and providing much greater control over the opiate's effects because they have a slower duration of action.
This means that you are seriously less likely to get the pain, agony, and other side effects of withdrawal—which is much better than a home detox. You'll also find that if you have any serious side effects, they can be treated, and the doctors will know exactly what medication you're on, so they can be adjusted as necessary. If you have a heart attack as a result of detox, your chances of survival in the clinic are around 95 percent. Outside the clinic in an area where medical attention is generally unavailable, it's around 5 to 10 percent.
This basically means that if you want to detox in a safe environment, you need doctors around you who can make your stay a lot more comfortable. They can prescribe meds, adjust your dosage in real time, and even give you something to help you sleep without compromising the integrity of your detox program.
It also takes you away from the factors that led you to addiction. These might be friends who introduced you to the drugs or the work that led you to take painkillers. It might be the injury that caused you enough pain that you sought a prescription for narcotic painkillers. Whatever the reason, it takes you away from that world so that you can detox in peace rather than in pieces.
It will also provide a good lead in to addiction therapy. Therapy will likely involve cognitive-behavioral therapy and possibly family therapy to help you understand why you fell into addiction and the effects it has had on your family and other loved ones. At the end of the day, a clinic will improve your chances of detoxing successfully, and that's the important thing, isn't it. If you need help on drug and alcohol addiction, call our hotline at .
Take Our "Am I a Drug Addict?" Self-Assessment
Take our free, 5-minute "Am I A Drug Addict?" self-assessment below if you think you or someone you love might be struggling with drug addiction. The evaluation consists of 11 yes or no questions that are intended to be used as an informational tool to assess the severity and probability of a substance use disorder. The test is free, confidential, and no personal information is needed to receive the result.