Changing Our Perspective on the Opioid Crisis
I recently came across some work featured in Time Magazine by Philadelphia-based photographer Jeffrey Stockbridge. For five years, he chronicled the lives of heroin addicts in the city's Kensington neighborhood. In the article, he discussed the changing face of substance abuse and his desire to alter society's narrow perspective about this disease.
What struck me the most were Stockbridge's words about how we need to look at chemical dependency through a different lens because it's so widely misunderstood. This lens, he proposes, would allow us to treat people in active addiction as human beings, with compassion. He believes stigma is the reason we find it hard to show compassion towards people in addiction.
Over the course of five years, Stockbridge built rapport and trust amongst his subjects, which allowed them to be heard. He did this by pairing their photos with written and audio statements that were published online. He successfully humanized them; they were no longer faceless, voiceless strangers.
Organizations Working to End the Stigma
The article made me think about the divide between all the great addiction advocacy work being done and the persistent negative stigma associated with substance abuse.
There are some great organizations out there attempting to shorten that gap, such as:
Facing Addiction: This agency is working to change the national addiction conversation and provide much needed resources. Their new "Listen" campaign "offers support through connected resources, and eliminates blame, shame, and stigma by amplifying the stories of millions of Americans whose lives are affected by addiction".
Faces and Voices of Recovery: This group is "dedicated to organizing and mobilizing the over 23 million Americans in recovery from addiction to alcohol and other drugs, our families, friends and allies into recovery community organizations and networks, to promote the right and resources to recover through advocacy, education and demonstrating the power and proof of long-term recovery."
How Do We Change Hearts and Minds?
Despite the tireless efforts of advocacy groups, a gap remains. There are still huge sections of society who label substance abusers as second-class citizens – unworthy of basic human decency and treatment.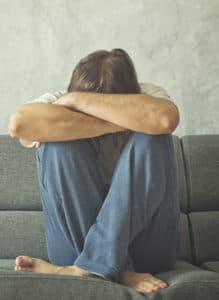 Those same uneducated people think, despite overwhelming scientific evidence to the contrary, substance abuse is a choice and a moral failing. I've witnessed it and I've experienced it, as well. I have friends and family who still believe chemical dependency is a matter of diminished self-control. What else can we do, though?
Stockbridge suggests spending time and money on finding solutions, rather than changes in drug policy or harsher prison sentences. He encourages investment in getting people treatment – citing the success of harm reduction programs in Kensington. Stockbridge thinks their success is largely due to the human element: seeing the addicted as people who simply need help. He hopes his photos aid the realization that nobody "sets out to become a heroin addict," rather they fall into a "cycle of pain and numbness" that becomes incredibly difficult to escape without help.
Stockbridge believes so passionately in harm reduction programs that he's donating a portion of the proceeds from his book to them.
A Personal Call to Arms
My life's purpose is to provide resources for people to live well in recovery, but I wondered – beyond spreading the message of recovery – what could I do to help educate people about their misconceptions? I tend to shy away from recommending how others live their lives, but with Stockbridge's thought-provoking work and the unrelenting negative stigma, I find it hard to not to act.
Here are some of my suggestions to change society's view and possibly help find a solution to the growing substance abuse epidemic:
Treat people suffering with chemical dependency like human beings. Imagine they're your son or daughter, brother or sister. Imagine how would you treat them if they had cancer?
Show them compassion and care instead of contempt and disgust.
Ask if they need help and let them speak.
Educate yourself about available resources.
Don't judge. It's more difficult than you realize to find recovery from substance abuse.
Stop treating people in active addiction with disdain.
Celebrate those who find recovery.
Read up on the science behind addiction and base your views on facts, rather than moral position.
Get involved in the support of advocacy organizations and help change the landscape of substance abuse and recovery
I passionately believe, like Stockbridge, that breaking stigma and challenging misconceptions goes a long way in effectively dealing with a crisis that's killing millions of Americans.
Stockbridge's project has since concluded, resulting in his book, Kensington Blues.
Additional Reading:   Collateral Damage – Labels, Stigma, and Addiction
Image Source: Shutterstock